The students of the mentor programme could meet each other for the first time on 27th September at an intercultural training. As a part of it, they had to solve exercises at different spots in Szeged.
The main attraction of the trip to Ópusztaszer was the Feszty Panorama Picture and a horse show. For those who were interested in old traditions and fashion there was an opportunity to dress up in old clothes, and to have a look around the yurts. After a hearty lunch they had to compete in different games in teams, for example in an activity game.
After the tiring but eventful day, the participants returned to the city of sunshine with an extra passenger: a kitten.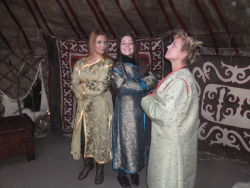 The programme was fulfilled in the framework of the NTP-TFP-MPA-12-004 'Let's go to university' project with the support of the National Talent Programme.