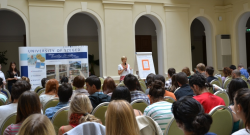 The aim of this week is to inform the students about academic and administrative matters. On the 29th of August Prof. Dr. Gábor SZABÓ, Rector of the University of Szeged, greets the incoming Erasmus students at the Rector's Office.
15 Countries, 64 Cities, 78 Universities, 164 Erasmus students: these are facts representing our incoming Erasmus students who will start their studies in Szeged in the first semester of the academic year 2012/13.
Most of the students arrived from Turkey (34) and Spain (31), while Italy stands on the third place with 29 students. Several Romanian, French, Polish, German, Bulgarian, Estonian, Czech and Finnish students will arrive in the upcoming months. Furthermore, Portugal, Croatia and Slovakia also represent themselves with 2-2 students.
Another interesting fact is that 10 Faculties with 35 disciplines of the Institution will receive students this year. The majority of them will start their studies at the Faculty of Arts (40) and at the Juhász Gyula Teacher Training Faculty (35), after which stand the Faculty of Science and Informatics (25) and the Faculty of Medicine (19).
During the orientation week Erasmus students will meet Hungarian students from the Erasmus Student Network Szeged and the Students' Union, from whom they will get information on currency exchange, canteens, shops, shopping centers, public transport, etc.