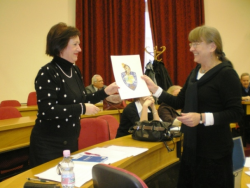 The Committee of Marketing Sciences chaired by Professor Gábor Rekettye, University of Pécs is collecting all the marketing scholars in Hungary with the focus to encourage scientific research in Hungary and to promote international relations in this field.
The new subcommittee incorporates all the founding members of the National Committee of IAPNM and it is open for others interested in the research on this field. The aim of the new subcommittee, which is chaired also by Professor Elisabeth Hetesi is to promote research and scientific co-operation in the field of public and non-profit marketing.
Beside the eleven founding members the Hungarian National Committee accepted the application of four other researchers from different Universities to join the body.
On the photo: On the January meeting Professor Elisabeth Hetesi is handing over the certificate with the logo of the IAPNM to one of the new members Professor Valeria Pavluska.